Top 5 Event Trends for 2013
We've been reading a lot of predictions about event trends for 2013, and most seem to center around wedding trends. This makes sense – there are typically a lot of engagements happening around the holidays and there are many excited brides-to-be out there that are now on a mission to plan the perfect wedding.  And, if we are being honest, who among us doesn't love looking at breathtakingly beautiful photos of wedding flowers, tables, room set-ups, cakes, dresses, the list is endless!  We'll admit it – we were sucked into that vortex of spectacular photos … but, only because we were looking for the connections we could make from the hottest wedding trends to the corporate and organizational events our clients host.  (Ok, mostly because we were looking for that correlation … like we said, who can resist the eye-candy that most wedding photos are?)
Green.
That is the connection.
1. Pantone Color of the Year
The Pantone color of the year this year is Emerald Green. Their description is  "Lively. Radiant. Lush… A color of elegance and beauty that enhances our sense of well-being, balance and harmony."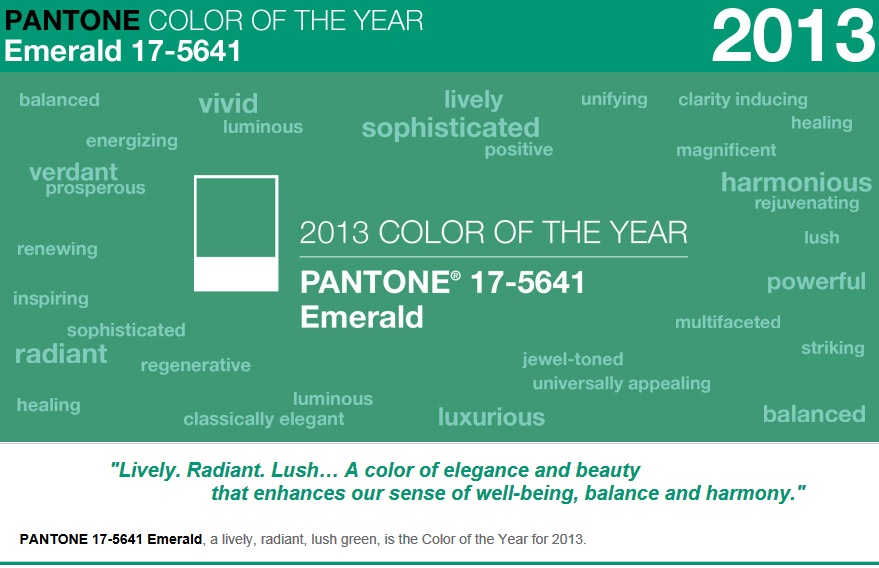 Green can be a challenge to work with at times, but this particular shade of green is stunning, and we are sure to see it popping up everywhere this year.  To stay on trend without overdoing it, try working this color into table linens, floral arrangements, or your event graphics.  Like Pantone says, it's a lively and lush color; a little will go a long way.
2. Emphasis on 'Greener' Menu Planning
In the olden days of events (you know, the mid to late 2000's), event attendees could expect to see extensive buffets with the most delectable, indulgent, decadent choices ever.  Most people typically opt for a sandwich or salad or some dinner leftovers for lunch in their normal routine, but when they are at an event, they should have salmon with dill sauce or prime rib or fettuccine alfredo for lunch, right?  Well, it seemed like a good idea at the time.
Today, attendees are typically looking for the more 'green' options in food choices: organic, local, healthy, and balanced.  Take the time to consider how your meal ties into the event functions around it, and plan the menu to offer choices that will naturally help put attendees into the state-of-mind needed for the event.
3. The Great Green Outdoors
Why do meetings have to stay inside?  More planners are now looking for destinations that offer outdoor options for segments of the meeting.  Consider your agenda and your destination to work in opportunities to let your attendees see the light of day instead of the fluorescent light of a hotel ballroom.  Time spent in the great green outdoors will naturally refresh and re-energize your attendees!
4. Green Meetings
Environmentally-friendly, sustainable meetings aren't going anywhere.  Many meetings do already incorporate at least some basic elements of 'reduce, reuse, recycle' and the opportunities to expand these efforts just keep growing.  Instead of just bringing in technology to replace paper, make sure you are bringing in greener technologies.  Instead of just incorporating green elements into your meeting, look for facilities that are greener too.  The opportunities for greener meetings are endless – check out Green Meetings Industry Council for ideas to make your event more green.
5. Show Me the Green: Fiscal Responsibility
We know, it seems a little odd to us too to say that "fiscal responsibility" is a trend.  It should just be a given, right? Most planners and executives involved with events understand the importance of staying on budget and being fiscally responsible with the dollars spent.  But, is being fiscally responsible with the budget you are given enough?  Or, should more emphasis be placed on being responsible with the budget allocation in the first place? Isn't it more fiscally responsible to take into consideration the desired results of the event and then place a dollar value on what you are willing to spend to achieve those results?  We are seeing our clients approach budgeting as a strategic, high-level decision based on results, instead of a tactical decision based on costs.
So, 2013 is now the year of green for us!  How will you bring the color of the year into your meetings and events?